E-commerce Solution Total Cost Calculator
Looking at the costs and the benefits of using licensed and hosted ecommerce solutions
Hosted vs. licensed E-commerce solutions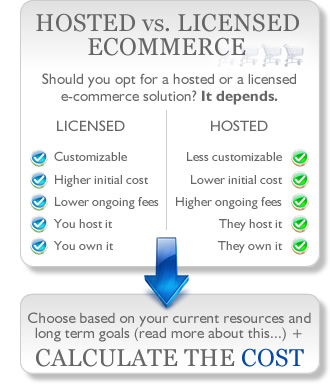 How much will it cost to run your e-commerce Web site? When you are reviewing different shopping cart software, the answer might not be that obvious. Use our calculator to find out. We go beyond the "start up" costs, as running an Internet store is something that you will be doing for quite some time. Typically, there are two main options:
Hosted e-commerce solutions
When you buy or subscribe to this kind of service (e.g. Yahoo! Stores), you are typically charged a combination of a setup fee, a monthly fee, and, in some cases, a commission on sales.
Licensed shopping cart software
When you purchase shopping cart software like ProductCart, you normally pay for the software license fee, and, in some cases, for a yearly support & updates plan.
Good reads on this topic
What are the differences in these two approaches? Practical eCommerce ran two interviews on this topic. Check out the articles:
Note about payment processing: This tool focuses on the cost of the ecommerce system itself. Other costs that you may incur are those associated with processing credit cards online (payment gateway fees & merchant fees). Those costs are often the same regardless of whether you use a hosted or licensed ecommerce solutions (e.g. you decide to your Authorize.Net as your payment gateway, and have an Internet Merchant Account with Wells Fargo: it doesn't matter which ecommerce solution you adopt, as your monthly and per-transaction costs remain the same).
All names and marks mentioned on this page are property of their respective owners.