ProductCart v4.7 Ecommerce Software: Feature List
A complete list of features included in the latest version of our ecommerce software
Our ecommerce software contains hundreds of advanced features. We invite you to compare it to other shopping carts, regardless of the price. You will quickly realize that ProductCart provides tremendous value, including a number of unique features that are simply not available elsewhere.
At ProductCart, we focus exclusively on developing the best possible shopping cart software for your business.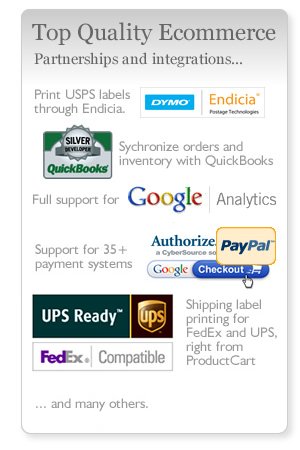 View a printer-friendly feature list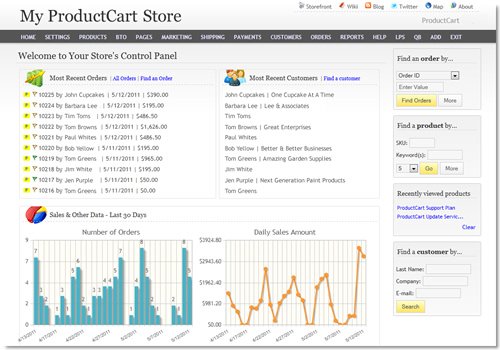 Shopping Cart Setup
Nothing to install on the Web server. All you need to do is transfer a directory containing all ProductCart files to your server via FTP. If you want, we can take care of the installation for you ($50 service when you buy ProductCart).
Unlike most other shopping carts, ProductCart includes an intuitive, Wizard-style setup utility that will guide you step by step through the process of getting the ecommerce system up and running on your Web site. Among other things, the Wizard performs a number of checks on your Web server (e.g. is the database connection string valid? Have folder permissions been setup correctly? Is an XML parser available? Which email components are supported?).
Inexpensive setup service. If you would rather have us install and activate the shopping cart for you, simply select that option when you purchase ProductCart. It's only $50. You send us information about your Web hosting account and we get everything ready for you. Then all you have to do is log into the ProductCart Control Panel and start using your online store.
Seamless integration with your existing Web site design. All store pages are based on two files that you can create in less than 5 minutes. Learn more about how easy it is to blend our shopping cart with your Web site.
Perform a complete store setup in just a few hours.
Easily configure all store settings using your browser.
Manage every aspect of your store using ProductCart's password protected, intuitive Control Panel.
Create other administrative accounts with limited rights so that other staff can help you manage your store.
Support for multiple database connections (DSN and DSN-less).
Support for multiple e-mail components (CDONTS, CDOSYS, CDO, JMail, Persits ASP Mail, ServerObjects ASP, Mail Bamboo SMTP).
Developer's corner to assist ASP developers in customizing their ProductCart-powered online store.
Free support and updates for 30 days, and an inexpensive Support & Update Plan after that.
Constantly updated, WIKI-based documentation: visit the ProductCart WIKI >>
General store settings
Turn your entire ecommerce store on/off with one click. Show a custom message when the store is turned off.
Upload your company logo for use with store invoices and printer-friendly versions of order receipts.
Turn your ecommerce store into a product catalog (no purchasing) with one click.
Only allow wholesale customers to purchase (retail customers can only browse the catalog).
Set general order properties:

Minimum order amount for retail customers
Minimum order amount for wholesale customers
Maximum number of products for each order
Maximum number of units for each product within an order
Change the starting order and customer number (so the first customers don't feel uncomfortable)
Allow customers to nickname their orders so that they can more quickly locate an order when viewing a list of past orders (great for stores where the same customers tend to place a lot of orders: e.g. office supplies).
Allow customers to checkout without creating a password

Set currency and date format:

Currency Sign (e.g. $, EUR, etc.)
Decimal Format: 1,234,567.89 or 1.234.567,89
Date Format: MM/DD/YY or DD/MM/YY

Specify whether to use pounds and ounces or Kilograms and grams.
Specify whether or not your store uses SSL.
Specify whether customers should be directed to the secure pages at login/checkout or on the payment page.
Inventory settings:

Set whether to show inventory data (units in stock) on the product details page
Set whether customer can purchase out of stock items or not
Enable/disable a customizable "out of stock" message
Set whether to disregard general inventory settings on a product by product basis (e.g. 8 out of 100 products can be purchased even if they are out of stock, the others cannot). This feature works great for stores that sell both products (e.g. books do go out of stock) and services (e.g. seminar registrations don't normally go out of stock).
If there are products that can be back-ordered, you can allow customers to tell you whether they would like to receive one shipment (they would wait until all products are available) or multiple shipments (products that can be shipped are shipped immediately). Customers are notified via email and asked for their preference.

Search options

Show/hide category drop-down on advanced search page (or limit to top-level categories only)
Include/exclude sub-categories in a category-specific search (allows faster searches with large category trees)
Limit number of results returned in a storefront search (improves performance on a large product catalog)
Show/hide "Searching..." modal window (useful on stores with large product catalogs)
Enable/disable "Drill-down navigation" (more information on drill-down navigation)

Show/hide discount code input field (e.g. show it if there are coupons or gift certificates that customers can use, otherwise hide it)
Enable/disable "wish list" (allows customers to store in a virtual "wish list" items that they might want to purchase at a later time)
Enable/disable "quick buy" (allows customer to purchase without visiting the product details page, if applicable)
Enable/disable "Manage Gift Registries" link in the Customer Account area to allow or not allow customers to create and manage Gift Registries (e.g. wedding registry)
Enable/disable "Tell a Friend" feature. When the Reward Points system is activated, customers can earn discounts and free products by referring other customers.
Set the store home page (use the default page, or define your own)
Upload custom store buttons & icons. Automatically restore default store buttons & icons.
Allow customers to sign up for your store newsletter
Enable/disable referrer drop-down menu and add custom menu items (e.g. Where did you find us?). Make it a required selection or not.
Edit records shown in the "State" and "Country" drop-down menus throughout the store.
Create unlimited Special Customer Fields to collect additional customer information that is specific to your business (e.g. What is your tax ID? What is your account number? Etc.). Make these fields required or not. Show them during registration or checkout, or both.
Add optional, order related checkout options:

Terms & Conditions: ask your customers to agree to your "Terms & Conditions" before they can checkout
Order date & time (e.g. a catered event): allow customers to select a date for the order/event, enforce that the order date and time are at least 24 hours in the future, enter a list of blackout dates (e.g. catering service is not available on certain holidays).
Zip code validator: enter N accepted postal codes to only service customers in a specific geographic area (e.g. catering services are only available in the San Francisco region, so only ship-to addresses with those postal codes are accepted).

Setup additional Control Panel users with limited access to the administration console.
Change the administrator's user name and password.
Generate HTML links to place in any Web page that you want to link to the store (link to the catalog, a product, search, etc.).
Enter general settings for the integrated Help Desk (e.g. message types, priorities, status).
Allow/disallow Return Merchandise Authorization requests (RMA), where customers can select which products they would like to return and send you a request for an RMA number.
Turn the AJAX search and product preview features on or off with one click
Turn error handler on or off to help us troubleshoot a problem
Add Google Analytics site ID
Turn on AddThis social sharing icons: see a video tutorial of the AddThis integration
Display settings
Fully customizable graphical interface, store buttons and store icons. It's easy to create a professional looking ecommerce store that merges seamlessly with the rest of your Web site.
Total control via Cascading Style Sheets: the storefront is entirely CSS-driven (no font tags, for example)
Advanced, AJAX-enhanced storefront features to make your store more useful and cutting-edge
Choose from three category display options (how categories and sub-categories are displayed):

As a list (no images).
With category names and thumbnail images.
In a drop-down

Choose from a variety of product display settings for how products are displayed within a category:

Display items horizontally, with images
Display items vertically, with or without images
Display items in a list (small thumbnail, part number, name, etc.). You can also allow customers to add multiple products to the cart at once from the list.

Define category display settings store-wide and/or on a category by category basis.
Choose from different display options for the product details page:

Two-column layout, with product image(s) on the right
Two-column layout, with product image(s) on the left
One-column layout

Define product display settings store-wide, on a category basis, or even at the individual product level, each overwriting the more general display settings. This allows for great flexibility in the way different products are displayed on the same store.
Set the number of products per row and rows per page.
Set a default ordering criteria (part number, name, high price, low price).
Set the exact order in which products should be displayed in any category.
Let customers easily reorder products by part number, name, high price, or low price.
Set the number of categories per row and rows per page.
Set the order in which categories should be displayed.
Show category descriptions that support HTML tags. A different category description can be shown depending on whether a category is displaying a list of subcategories or a list of products.
Show short product descriptions when customers are browsing the store, then longer descriptions on the product details page. Separate short and long description on the product details page.
Hide a category with one click (e.g. you are updating products in that category)
Hide a category from retail customers (only wholesale customers will see it)
Hide any product by assigning it to a hidden category (but the store manager can still view hidden products)
Show category-specific product filters (drill-down navigation) on category and/or search pages to allow customers to easily narrow any list of products. For example, imagine a category called "Computer Monitors" with 200 products...

Create an unlimited number of Custom Search Fields (e.g. "Screen Size") and Values (e.g. "19", "20", "21", etc.)
Easily associate them with products, individually or for multiple products at once.
Associate any number of Custom Search Fields with product categories to enable drill-down navigation.
Add just 1 line of code to your store interface to dynamically show drill-down filters in your storefront.
Allow customers to select multiple filters at once on the Advanced Search page for particularly targeted searches
Email settings
Change e-mail component at any time. ProductCart supports: CDONTS, CDOSYS, CDO, JMail, Persits ASP Mail, ServerObjects ASP, Mail Bamboo SMTP.
Automatically detect which components are available on the Web server hosting your ecommerce store.
Specify your SMTP server and whether it requires authentication.
Easily test your email settings right from the ProductCart Control Panel.
Specify the store administrator's e-mail address and 'From' e-mail address
Specify a different address to receive customer service messages vs. order notifications
Specify whether you wish to receive an e-mail whenever a new customer registers with the store
Edit 'Order Received' e-mail
Edit 'Order Confirmation' e-mail
Edit 'Order Shipped' e-mail
Edit 'Order Cancelled' e-mail
Easily use any of the following variables in the e-mail messages automatically sent by ProductCart: Your Company Name, Company's URL, Today's Date, Customer's Full Name, Order ID, Order Date.
Add additional information to the confirmation email sent when a Downloadable Product is purchased (e.g. product specific installation instructions for different software applications).
Add a custom message to any email that is sent from the Control Panel
Resend any email (e.g. resend Order Confirmation email with a custom message)
Send HTML or Text messages to targeted, opted-in customer lists through the Newsletter Wizard. Test a message before sending it. Save previously sent messages and customer lists. Create a list of recipients using a variety of filters.
This is one of the areas where you can truly appreciate the sophistication of our ecommerce software. ProductCart automatically sends an email to a customer...

When an order is placed, but is not processed in real-time (e.g. offline credit card processing, payment by check, etc.). This is also the case when a payment is authorized, but not captured by a payment gateway (see the Payment Options section for details). In all of these scenarios, the order is considered Pending. ProductCart sends an "Order Received" message, which is not an order confirmation, but rather an acknowledgement that the order was received and that it will be processed.
When an order is processed. An order can be processed manually by the store owner using the Manage Orders section of the Control Panel (e.g. an order paid for by check may be processed only when the check is received), or automatically by the system either when the payment is processed in real-time (e.g. credit card processing through a payment gateway that is set up to capture payments, or PayPal payments), or when the payment is batch-processed after having been authorized by a payment gateway (see the Payment Options section for details). By default, ProductCart sends an "Order Confirmation" message, which confirms that the order was processed and will be shipped. When the product ordered is a Downloadable Product, the order confirmation message also includes download links and product licenses (if any).
When an order contains back-ordered products and the customer is allowed to choose whether to receive one or multiple shipments.
When an order is partially shipped. The customer is notified of which products were shipped, how and when, and that additional shipments will be made. The information is entered through a friendly Shipping Wizard.
When an order has been fully shipped. The customer is notified that the last shipment has been sent and all products in the order have been shipped.
When a drop-shipper ships a package and enters the corresponding shipping information into the system
When an order has been cancelled.
When a request for a Return Authorization is approved or denied. Customers can request a Return Authorization when viewing details about a previous order in the Customer Service section of the storefront. The store administrator is notified via email, and can either approve or deny the request. In both cases, the store administrator can opt to enter comments about the decision, and send a message to the customer. The same information is also shown on the View Previous Order page.
When a customer forgets his/her password. The login/check out page contains a link for existing customers that have forgotten their password. The link takes them to a form where they can enter their user name (which is the e-mail address they provided when they initially Registered with your store), and receive a message via e-mail with the password.
When a Help Desk message is posted. ProductCart includes a full-featured Help Desk system that allows you to keep in touch with your customers in an organized manner. When you post a new message or reply to a customer's posting, the customer receives a message.

On the other hand, an e-mail notification is sent to the store administrator...

When an order is placed.
When a new customer registers with the store, if that feature is turned on.
When a customer requests a Return Authorization Number.
When a customer contacts the store using the built-in contact form.
When a customer contacts the store using the Help Desk.
When a new affiliate signs up.
Product catalog features
Version 4.7 supports MS SQL databases only (older versions supported MS Access as well).
Easily add unlimited products & product categories to your store catalog.
Create a category tree with unlimited categories and category levels
Categories can contain both products (i.e. featured products within the category) and subcategories
Easily assign a product to multiple categories and edit existing assignments.
Clone existing products to quickly add similar items (all product settings including product options are cloned).
Import a CSV or MS Excel file to quickly populate the product database. A Wizard-style import utility guides you step by step through the field mapping process. Update a large number of products at once by appending or updating data to the database using the import feature.
Import updated product information by appending data to the existing store database. The Import Wizard allows you not only to import a new product database, but also update existing records (e.g. import new pricing information for 400 products already in the database). The Wizard even remembers the last mapping settings, so you don't have to re-map all the fields.
Build a category tree and assign products to multiple categories while importing product information.
Import your categories and all category settings using the Category Import Wizard.
Easily undo the last product import/update.
Import/export product information programmatically (e.g. inventory data) using the ProductCart XML Tools
Add unlimited images to your products: three main images per product (thumbnail, standard, detailed), plus unlimited additional images. The main image is automatically replaced by another image when the customer's mouse hovers over the second image thumbnail.
Automatically link the standard image to the detailed image, which is shown in an elegant modal window, automatically resized to the image's size.
Image magnifier via MojoZoom: turn it on/off with one click, at the product level (see examples).
Upload product images to your Web server right from ProductCart.
Automatically resize uploaded images to quickly create the three product images mentioned above from one source image file (see system requirements).
Specify retail and wholesale price. Easily set the wholesale price for all or groups of products as a percentage of the retail price using the Global Changes feature or through the Import Wizard.
Create additional, customer-specific pricing levels, with prices that can be set across the board (e.g. "Preferred Customers" automatically receive 10% off) or on a product by product basis.
Automatically show savings compared to list price (list price is shown stricken through).
Enhance your product description with HTML tags using the built-in HTML editor. ProductCart includes a robust, built-in HTML editor published by InnovaStudio (http://www.innovastudio.com/editor.asp).
Make a product tax-exempt.
Assign free shipping to a product. Select whether or not to show a free shipping message.
Set products as 'not for sale' and enter a custom message to display (e.g. 'coming soon', or 'discontinued').
Inactivate products without having to delete them.
Make a product ignore any inventory settings (e.g. the product is actually a service).
Inventory checks:

Prevent customers from ordering more than the current inventory level for a product
Additional inventory checks during checkout to prevent customers from purchasing an item that someone else just purchased, if the item is now out of stock.
Allow back-ordering at the product level
Override (ignore) all inventory checks at the product level

Enter the product weight in pounds and ounces (or Kg and grams).
For very light products (e.g. business cards) enter how many units weigh 1 pound (or 1 Kg) so that ProductCart may correctly calculate shipping charges (e.g. if 1,000 business cards weigh 1 pound, ProductCart will know that an order for 3,000 business cards weighs 3 pounds).
Enforce a minimum quantity amount (e.g. you can't order 1 business card, but rather at least 250).
Validate product quantity based on a multiplier (e.g. you can't order 274 business cards, but rather only a multiple of 500).
Specify that a product is 'oversized', then enter the product-specific package dimensions. When calculating shipping charges for this product, the shopping cart will know to ship it as a separate box, and will overwrite the default package dimensions with its special ones.
Create and easily manage a multi-tier category structure.
Add up to 2 images per category (thumbnail, large).
Add category descriptions with HTML tags using the built-in HTML editor.
Show a different category description depending on whether the category is displaying subcategories or products within the category.
Set the order in which categories are displayed in the store.
Set the exact order in which products should be displayed within a category, overwriting the default order setting (default ordering criteria can be: part number, product name, low price, high price).
Easily add product options (e.g. size, color, etc.) to one product or multiple products at once.
Set the order in which attributes should be shown (e.g. 'small' should show before 'medium', not after).
Assign positive and negative prices (e.g. add $30 or subtract $18) to product options.
Create separate option pricing for retail and wholesale buyers.
Make an option required (e.g. customer must choose a "size").
Keep and manage product inventory. ProductCart automatically updates inventory levels when an order is placed, and reinstates previous inventory levels when the same order is cancelled or returned.
Manage inventory on product variations with the Apparel Add-on: "blue/small" is a different part number from "red/large" (different stock level, part number, product image, etc.).
Cross-sell products on the product details page and/or shopping cart page. Easily "copy" an existing cross selling relationship to other products.
Easily setup cross-selling relationships among products.
Create product bundles: special cross-selling relationships where when two products are ordered at the same time, a discount is applied. Specify whether the discount is a percentage or absolute amount.
Turn cross-selling on/off store wide with one click.
Add custom input fields to allow customers to enter information as they order an item (e.g. initials to be embroidered on a polo shirt, or message for a greeting card). Enter up to 3 custom input fields per product. Make a custom input field required or not.
Create custom search fields and associate them with any products (e.g. assign "Wine Type: Merlot" to 10 wines in the store). Search filters and their corresponding values are automatically loaded on the advanced search page in the storefront (e.g. customer selects "Wine Type" and ProductCart automatically loads a second menu with "Merlot", "Cabernet", "Chianti", etc.). Enter up to 3 custom search fields per product.
Quickly update a variety of product attributes on multiple products at once using the powerful Global Changes feature.
Quickly update prices for multiple products at once, on one screen.
Easily locate a product for editing, using multiple filters.
Associate a product with a brand and let your customers browse the store by brand. Choose whether to show brand information and brand logos on the store.
Securely sell downloadable products (e.g. software, images, eBooks, and any other digital content). Hide the download URL, make the URL expire, deliver license information with the download link (e.g. a serial number required for installation). Easily integrate a custom license generator with the system. More about selling digital goods with ProductCart.
Sell apparel products and other goods that require inventory tracking at the product variations level (i.e. product options are actually separate part numbers) with the new Apparel Add-On.
Sell fully configurable products and services with the Build To Order version of ProductCart. It contains a sophisticated product configurator that allows you to sell anything from custom computers, to catering services. Visit the Build To Order section of our Web site for extensive information and demonstrations.
Create a Microsoft Bing Shopping data feed. Easily bulk upload products to Bing Shopping, Microsoft's new comparison shopping engine.
Product reviews:

Complete product review system that allows store customers to rate products and post feedback.
Many advanced administrator settings allow store managers to personalize the way the feature works
Be notified, review and approve each review before it is posted on the Web store, if you want to.
Show average rating when products are displayed in category, search, and other pages
Automatically remind customers to write a review N days after an order has been processed or shipped
Reward customers for writing a review via the Reward Points system

Content management system that allows the store manager to use ProductCart to handle "Content Pages" (About US, Customer Service, etc.), so that all of those pages can be managed right from within the Control Panel, rather than designed with a separate HTML editor.

Set up different users with different permissions
Review & publish pages created by other users
Save a draft version of the page
Restrict visibility in the storefront to only certain customer groups
Create page-specific Meta Tags
Create separate navigation for your content pages and easily add it to your storefront
... many other features

Support for a Private Shopping Club and Private Sales for different products and different customers.
Specials, discounts, and other marketing features
New in version 4.5: Sales Manager
The new Sales Manager for ProductCart allows you to easily start and stop a sale that affects select products

Search for and select the products to be included (or select a category)
Specify the discount using flexible options
Enter sales details such as a name, description, and sale icon
Preview and save the sale, then start it whenever you want
Stop a sale and archive completed sales
View orders placed for products included in the sale
Create sales for the retail, wholesale, or any other price level configured on the store.

Manage your store's home page: specify if and how to show featured products, specials, new arrivals, and best sellers
Manage the way products are presented on the new arrivals and best seller pages
Easily set a product as a "Special" or "Featured" item
Specials automatically appear on a "Specials" page
Featured items automatically appear on the store's home page
Assign $ or % quantity discounts to any product. Choose whether the discount should apply to product options too or not (assuming the option changes the product's unit price).
Assign $ or % quantity discounts to any category. Unlike with product-specific quantity discounts, the discount applies regardless of the different products that are purchased within the category (e.g. 10% over 5 music CD's from the category "Jazz" means that the discount applies regardless of which 5 music CD's the customer buys from the category).
Set different discount values for retail and wholesale customers.
Quickly apply the same quantity discount tiers to N products at once.
Create unlimited discounts by code (coupons)
Apply multiple restrictions to any discounts by code

start date
expiration date
$ or % discount, and turn a % discount into a flat fee above a certain order amount (e.g. 10% off, but $10 over $100).
one time only
quantity restrictions (e.g. applies when you buy more than..)
weight restrictions
order amount restrictions
product restrictions (e.g. applies only when you buy certain products)
category restrictions (e.g. applies only when you buy products from certain categories)
customer restrictions (e.g. can only be used by certain customers)
customer type (e.g. retail customers only)
specific Customer Pricing Categories (e.g. only "Preferred Customers" or "International Distributors")

Give free shipping on one or more shipping services via a coupon.
Support for multiple discount codes (coupons) on the same order. For example, customers could use a coupon to obtain free UPS® Ground shipping, and another one to enjoy a 10% discount on the items they are purchasing.
Specify whether a discount code can be used together with another discount code or not.
Create coupons that are automatically applied to an order.
Here are some examples of how these flexible electronic coupons can be used.
Archive older coupons that are no longer needed (keeping them in the system for accurate reporting on past orders)
Set up flexible product promotions. Below are some examples, and here is more information.

Buy 1, get 1 free
Buy 2 pairs, get 25% off the 3rd pair
Buy 1, get $10 off the second
etc.

Set up cross selling relationships and product bundles (discount when you purchase 2 bundled products)
Take advantage of the unique Reward Points system. What used to be a $245 add-on to ProductCart is now part of the standard version. Increase customer loyalty, promote repeat purchases, and encourage existing customers to spread the word about your store with this great Internet marketing tool.
Sell Gift Certificates:

automatically create unique gift certificates
allow customers to partially redeem a certificate
track used certificates
sell physical or electronic gift certificates
allow customers to specify the recipient during checkout, and send a note with it
allow customers to quickly look-up the available balance left on a gift certificate
quickly resend Gift Certificate information to the recipient at any time from the Control Panel

Allow customers to create and manage Gift Registries on your store. Customers will be able to add products to their registries, then let friends and family purchase items off the registry.
Allow customers to use both a Gift Certificate and a discount code (coupon) on the same order
Allow customers to use multiple Gift Certificates on the same order
Enable multiple Gift Wrapping features with or without additional charges and with the ability for customers to enter a gift message. Specify which products cannot be gift-wrapped.
More details about gift certificates, gift wrapping, and gift registries.
Shipping options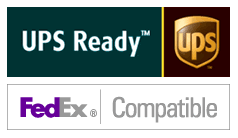 ProductCart includes a powerful shipping component. Our ecommerce software is one of the few shopping carts that integrate the UPS Online Tools, UPS Shipping API, and FedEx Shipping API. Learn more about the many features of ProductCart's shipping module. Here is an overview of some of its features:
Support for UPS, USPS, FedEx, CanadaPost. Each shipping provider can be easily configured by running an intuitive, Wizard-style setup utility.
Ability to finalize shipments and print UPS and FedEx shipping labels right from the ProductCart Control Panel.
Support for multiple package shipments.
Ability to properly calculate shipping charges on very light products (e.g. business cards, pins, buttons, electrical parts, etc.)
Show special shipping instructions on the shipping service selection page.
Let customers preview shipping rates before even starting the checkout process.
Only show selected shipping services from each service provider (e.g. only display UPS Next Day Air and UPS Ground, not UPS Second Day).
Set "free shipping" for any shipping option above a certain order value (e.g. make UPS Ground free when the order amount exceeds $150).
Add shipping and handling fees as a separate charge or built into the shipping rates. Fees are specific to each shipping option.
Enter standard packaging type and size, and standard delivery method (e.g. daily pickup, customer counter, etc.) for each shipping provider, to increase the accuracy of the shipping rates.
Flag a product as oversized to more accurately calculate rates. Specify special packaging size for a specific product. Oversized products are automatically considered a separate package when calculating shipping rates.
Add any number of custom configured shipping options based on weight, quantity, order amount, incremental values.
Show custom shipping options only to domestic or only to international customers.
Mix custom configured shipping options and dynamic shipping options (e.g. UPS Next Day, UPS Ground, In-store pickup).
Set the exact order in which shipping options should be presented to the customer
Allow or disallow the ability for customers to provide a separate shipping address. This allows a store to require that the billing address be the same as the shipping address.
Allow or disallow the ability for customers to specify whether to ship to a residential vs. commercial address (or select automatically based on customer type).
Automatically store multiple shipping addresses for a repeat customer, so that the customer may select the shipping address that applies to a new order from a drop-down menu, without having to re-enter it.
More information about the integration with UPS >>
Endicia integration: merchants can now print USPS shipping labels, with postage, directly from the Control Panel.
Payment options
Add real-time and non real time (e.g. Net 30) payment options
Easily integrate with all major payment gateways for real-time credit card processing. ProductCart currently supports the following payment gateways (more information):

2Checkout
Authorize.net (AIM and eChecks). ProductCart is a certified Authorize.Net shopping cart.
BeanStream
BluePay
Concord EFSnet
CrossCheck's CheckByNet
ChronoPay
CyberSource
DowCommerce
ECHO
eWay
FastCharge
FastHosts eMerchant
FastTransact
HSBC
Internet Secure
iTransact
LinkPoint API
LinkPoint Connect
Moneris' eSelect Plus
NetOne
NetBilling
Ogone
Omega
Paradata
Pay Junction
Payment Express (Direct Payment Solutions)
PayPal Payments Pro (US and UK)
PayPal Express Checkout (US and UK)
ProtX
PsiGate
PxPay
SkipJack
Total Web Solutions
Transaction Gateway Systems
TripleDeal
TrustCommerce
USAePay
VeriSign PayFlow Link is now PayPal PayFlow Link
VeriSign PayFlow Pro is now PayPal PayFlow Pro
Virtual Merchant (Nova)
viaKLIX
WorldPay

Select gateways: set up transactions to be automatically captured or only authorized (credit card is authorized, but not debited). This allows you to verify the accuracy and legitimacy of an order before processing it (the order remains pending until you process it). See the ProductCart User Guide for more details.
Select gateways: minimize fraud using CardinalCommerce's Centinel system >>
Discourage fraud by letting customers know that ProductCart has detected and saved their IP address
Process credit card offline (e.g. you already have a POS system and want to collect the credit card information securely to process it through your existing system).
ProductCart is a PA-DSS compliant shopping cart.
Support for PayPal's new Instant Order Verification feature
Securely process credit card transactions using an SSL certificate
Add custom payment options (e.g. Net 30, Net 90, etc.)
Specify which options are only for wholesale customers
Automatically calculate taxes based on product, location, or a tax rate database
Calculate and show VAT (Value Added Tax) if the feature is turned on. Support multiple VAT categories (e.g. different VAT rates for books vs. electronics).
Recurring billing support via SubscriptionBridge integration: now you can handle recurring billing products and services through SubscriptionBridge.
Affiliate program management
Set up new affiliates (or allow them to sign up), assign a different commission to each affiliate, track sales.
Turn auto-approve on/off: affiliates can be automatically approved when they sign up, or you can keep a new affiliate account inactive until you have reviewed it.
Give affiliates access to a password-protected area where they can manage their affiliate account, generate special links that include their affiliate tracking code, and view a report of commissions earned
Save Affiliate ID: You can set the system to save the affiliate ID to a cookie, and decide how long the cookie should last.
Commission-eligible orders: You can specify the number of orders placed by the same customer on which affiliate should get a commission.
Exclude wholesale customers: setup the system so that orders placed by wholesale customers (or customers belonging to a Customer Pricing Category with wholesale privileges) are not eligible for affiliate commissions (no commission is awarded).
Generate a variety of reports to show commissions earned and paid.
Log payments made to affiliates.
Compatible with Google Checkout.
Order management & reporting
Search for orders by date, product, customer, etc.
Edit pending orders: change quantity, remove/add products to the order, recalculate shipping, taxes and discounts, etc.
Easily update order status (pending, processed, shipped, partially shipped, cancelled, returned, etc.).
Support for drop-shipping:

Create and manage drop shipping companies
Associate products with a drop-shipper
Be notified when an order contains products that need to be drop-shipped
Automatically or manually alert drop-shipping partners when an order is placed and needs to be shipped
Allow drop-shipping partners to update the shipping information for an order
Properly handle complex orders that contain both shipping and drop-shipping products

Support for back-ordering:

Specify whether a product can be back-ordered. Show a custom message to customers in the storefront (e.g. "Typically ships in 10 days")
Be notified when an order contains a product that is back-ordered
Notify customers and allow them to specify whether they would like one or multiple shipments
Automatically let customers know whether they are receiving a partial shipment or the final shipment for the order

Batch process multiple orders at once.
Settle credit card transactions while batch processing orders (only available with supported payment gateways).
Sort orders by their status for efficient order management.
Archive orders that no longer need your attention, so you focus only on those that do.
Quickly contact customers right from ProductCart's control panel.
Import/export category information programmatically (e.g. accrued Reward Points) using the ProductCart XML Tools
Automatically send e-mail messages when an order is placed, processed, shipped and cancelled.
Automatically update customer's order status page in the customer service area. When an order is shipped and a UPS tracking number is provided, customers can track their shipment right from within ProductCart.
Ship orders using the friendly "Shipping Wizard", which allows you to pick which ordered products to include in a shipment
"Split" a product ordered in more than 1 unit onto separate packages (e.g. 2 units in package A, 3 units in package B)
Print shipping labels for UPS, FedEx, and USPS (USPS postage can be printed via the Endicia integration)
Batch ship multiple orders at once
Professionally process returns by allowing customers to request an RMA (Return Merchandise Authorization), then approving or denying it. Keep customers updated throughout the return process.
Generate a report of all outstanding RMAs
Automatically exclude returned and cancelled orders from sales reports and inventory data.
Generate a variety of sales reports using multiple filters.
Automatically post ecommerce transactions to Google Analytics and view where your sales are coming from.
Easily export sales data in CSV or Excel format.
Automatically respond to requests to export order information to an XML feed using the ProductCart XML Tools.
Print printer-friendly invoices for one or multiple orders at once.
Print printer-friendly packing lists for one or multiple orders at once.
Print a "pick list" of products that need to be pulled from inventory to fulfill pending orders.
Professionally handle any order-related issue through the integrated Help Desk.
Allow customers to upload graphics and other files related to an order via the Help Desk.
Easily enter a phone order for an existing customer by automatically logging into the customer's account and using the storefront on his/her behalf.
Merge orders for different customer accounts and consolidate them under a single account.
Minimize fraudulent orders with CardinalCommerce's Centinel system, which is integrated into ProductCart.
Storefront Features
What will your store visitors' experience be like? ProductCart allows you to build a truly professional storefront. First of all, you can seamlessly blend the shopping cart into your custom Web site design. (customers don't buy from cheesy, template-based stores because they don't feel comfortable :-)
Then, take advantage of the following feature that you can make available to your store customers (or that are automatically built into your storefront):
Advanced, AJAX-driven "One Page Checkout" system for quick checkout
Guest checkout (customers checkout without having to register a new account)
Automatic saving of shopping cart content (so if customers close their browser by mistake, the products are still there)
Show featured products, on a store home page that is dynamically generated by the shopping cart (of course, this is just the default home page, but you can use fully customized home pages).
Show store specials, graphically organized according to the store's general display settings
Show your best sellers and new arrivals.
Show recently viewed products
Let your customers browse and search by brand. Automatically show a link to other products of the same brand from the product details page.
Let customers browse by category: set up the store by choosing from 5 different category display layouts.
Let customers narrow down large product lists using "custom search fields" (drill-down navigation)
Let customers search your catalog using multiple filters at the same time (category, keywords, brand, price, etc.), or from a 'Quick Search' box that you can place anywhere on your Web site.
Allow customers to view products related to the one they are viewing (cross selling).
Let them add products to a wish list
Build To Order version only: let customers configure a product or service as they buy it (e.g. custom computers, catered birthday party, custom business cards, custom-built furniture, etc.). Learn more >>
Build To Order version only: let customers save a quote on a custom order, then have them email you the quote, or edit it and turn it into an order. Learn more >>
Allow customers to use a built-in 'Tell a friend' form to spread the word about a product
Let customers register with the store so they can quickly log into their account on future visits
Request a lost password form
Automatically save alternative shipping addresses as customers checkout
Allow customers to enter special order instructions
Reward customers for every purchase (Reward Points module, when turned on)
Let customers use accrued points to obtain a discount on a new purchase (Reward Points module, when turned on)
Link to a printer-friendly order receipt at the end of the checkout process
Automatically send customers e-mail updates when the order is received, processed, shipped, cancelled or returned.
Provide your customers with a useful customer service area where they can...

update their account information.
view previous orders.
repeat a past order (all products are instantly re-added to the shopping cart - customers can then easily edit the order before starting the checkout process).
check the status of a current order.
track a shipped order.
view Wish List items and add them to the shopping cart.
view accrued points, and points used so far (Reward Points module, when turned on)
view, print, edit, submit a saved quote (ProductCart Build To Order only)
create and manage a Gift Registry where friends and family can order products from a list of chosen items. Quantities are instantly updated and the customer is notified when someone buys a product from the registry.
Search engine friendliness
Category-specific meta tags
Product-specific meta tags
Content page-specific meta tags (v3.51 and above)
Canonical URL (v4.1 and above)
Dynamic meta tags: when meta tags are not manually specified (or imported), let ProductCart dynamically create meta tags for every shopping cart page. For example, on a product details page (when product-specific meta tags have not been entered), ProductCart automatically builds the Title Meta tag as a combination of the product name store name and dynamically creates the Description Meta tag using a portion of your short or long product description. The same is true for categories.
For any page for which Meta Tags have not been entered, the shopping cart uses default Meta tags specified by you.
Generate a static store map. Search engine spiders will love the site map that ProductCart can dynamically generate for your store with one click. It will point to all of your products and categories, thus helping search engines spider all of them. Of course, you can exclude any category. Take the code generated by ProductCart and place it anywhere on your Web site. For example, you could link to the store map from every page by adding a link to your navigation area.
Easily link existing pages to the shopping cart. With ProductCart you don't have to drop pages that have already been indexed and might have good rankings. You can keep them and link them to your new store.
Enable/disable keyword rich URLs (URL contains product/category/page name)
Submit products to Yahoo!, Amazon, and NexTag.
Check Web statistics and monitor conversions using Google Analytics.
Learn more about why ProductCart is a search engine friendly shopping cart.
QuickBooks synchronization
The following is a list of features included in the ProductCart Synchronizer for use with QuickBooks, which is an optional component for our ecommerce software. Learn more >>
Inventory-related features:

One-Click Inventory Synchronization Or Automatic
Inventory Synchronization is Optional
Bi-directional Inventory Synchronization
Near Real-Time Capable
Supports Scheduling

Products:

On-Demand Product Transfer
Support for: Inventory Part, Inventory Assembly Item, Non-Inventory Part, Service
One-to-One Product Mapping (Map each ProductCart product to an individual item account in QuickBooks)
Generic Product Mapping (Match all ProductCart products to one generic item account in QuickBooks)
Accounts Mapping (e.g. Assets, Income, Cost of Goods)

Orders:

On-Demand or Scheduled Order Transfers
Support for Invoices, Sales Receipts, Sales Orders
Transfer by Payment Method
Transfer Orders when they reach a certain status (e.g. Pending, Processed, Shipped, etc.)
Line Item or Order Level Tax
Support for: Tax Zones, Tax Data Files, Tax By Location
Billing and Shipping Addresses
Customizable "Memo" Field
Discounts and Coupons, Reward Points, Gift Wrapping, etc.

Other Features:

Prevents Duplicate Items and Orders
Credit Card Processing in QuickBooks
Automatic Payment Method Matching
Automatic Shipping Method Matching
Template Support
Class Support
Full ASP Source Code
When you purchase a ProductCart license you receive the full ASP source code with it. ProductCart contains hundreds of well-commented active server pages.
If you are proficient with ASP, you will be able to make modifications to the shopping cart so that it exactly fits your needs or those of your clients.
If you do not have ASP programmers on staff, you can ask a Web development company to help you with the customizations (e.g. you can start by contacting one of our authorized resellers).
The immense popularity of ASP as a programming language gives you the peace of mind of knowing that you will always be able to find resources to help you customize your ecommerce store, when and if any customizations are necessary. For more information, read about ecommerce solutions built around ProductCart.
More about the advantages of using an ASP shopping cart.
Constantly updated User Guide
Our ecommerce software contains hundreds and hundreds of sophisticated features. For an in-depth look at all of them, we encourage you to visit the constantly updated, WIKI-based ProductCart User Guide: hundreds of detailed articles that will give you a good idea about the tremendous amount of work that we have put into ProductCart over the years. It will also help you better compare ProductCart to other shopping carts.

View a printer-friendly version