Effective marketing tools and ideas
for your ecommerce store
Marketing ideas that leverage ProductCart's
advanced marketing features
Sales Manager, electronic coupons, promo codes, gift certificates, gift registries, reward points, tiered pricing, and more!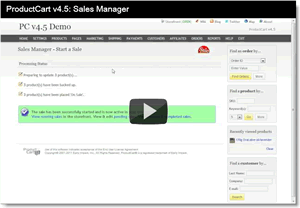 ProductCart includes a number of marketing-oriented features that can help you increase your online sales, promote repeat purchases, and boost customer satisfaction. Use your creativity to put these powerful features to work. One of the most useful marketing and sales tools is the Sales Manager, which gives you even more ways to get creative with your store. See a video tutorial >>
Among other things, our shopping cart software includes support for very flexible electronic coupons. By combining multiple filters and discount types you can create a variety of offers that can be used in many different scenarios.
Here are some ideas for your e-commerce store!

Increase the average order amount
You can do this by rewarding customers that spend more than $XX on your store by granting them a discount on the purchase (e.g. 10%). As long as the discounted amount is higher than your average order amount, the average order amount will increase (e.g. your average order amount is $50, and you give a 15% off discount over $75).
The discount code in this scenario could be advertised right on your store's home page to motivate customers to place orders that exceed the amount set in the discount settings. In ProductCart, you can even have the coupon be automatically applied to the purchase when the order fits the requirements.

Acquire new customers
For example, you could create a discount code (electronic coupon) for a local business that says that everyone that works at Company XYZ gets 10% off. You could mail the discount certificate to the human resource department of that company and ask them to let all the employees know about it. In this example, the discount code would be printed on the letter sent to the company.

Boost repeat purchases
You could add the discount code to the order confirmation e-mail that is automatically sent to your customers after they place an order, advertising that they will receive $10 off the next order from your store by using the discount code. You could add extra filters to this coupon by limiting its applicability to orders above a certain amount, or only to products assigned to certain categories (e.g. "Clearance"), etc.

Reward frequent customers by making them "Preferred Customers"
Make your best customers feel even more special by creating a coupon that only selected customers can use, and then e-mail the discount code to them. Only those customers will be able to use the coupon by logging into their existing accounts.
Or you can use a "Pricing Category" to include every customer assigned to that category: the applicability of a discount code can be restricted to a certain pricing category (e.g. a coupon for free 2nd Day shipping that only customers belonging to a certain customer category can use).
And if you want to grant a discount across the board, then Pricing Categories are the perfect fit: you could assign preferred customers to a special customer category that automatically grants them a certain discount (e.g. 10% off the retail price). The discount can be different on different products as you can override the default discount at the product level.

Free shipping on first order
You could attract new customers by setting up a One-Time only coupon that gives them free shipping on selected services (e.g. Free 2nd Day Air). Since this can easily be done in ProductCart. Studies have shown that shipping expenses are often the number 1 reason for customers not to purchase.

Big Discounts on Clearance Items
You could use the Sales Manager to grant a big discount on clearance items, and then promote the sale by sending a newsletter to customers that have opted in to receive emails from the store.
Use the MailUp integration to manage your email marketing efforts with professional tools (e.g. allow customers to subscribe to multiple, separate lists), integrated right into ProductCart.

Tracking the Effectiveness of an E-mail Promotion
You could create three different discount codes, for three different discount amounts (e.g. 10%, 15%, and 20%) and measure the conversion rate to see which discount generates the largest profit (it's not necessarily the largest discount, which could generate higher sales, but with a smaller profit).
For example, assuming you have 1,000 customers, you could send each message to 100 of them, and then use the most effective discount amount to send the e-mail promotion to the remaining 700 customers.
In this and other scenarios, discount codes can help you measure the effectiveness of a marketing campaign. Note that the discount codes do not necessarily have to be used as part of an e-mail campaign. They could also easily be printed on a mail piece, and used to track the effectiveness of a direct mail campaign.

Use Gift Cards to win customers back
You could send a $10 electronic Gift Card to all customers that have purchased more than $100 in the last year to encourage them to purchase again. You can obtain the list of customers that meet that requirement from ProductCart's sales reports or the newsletter Wizard. Then you would create a $10 discount, with expiration after the first use, and e-mail it to them.
Use Gift Registries to promote word of mouth
There is nothing like letting someone else do the marketing for you! Gift Registries do wonders to this extent: the person registering on your store will invite friends and family to come and shop for them. New sales and new customers, without spending a dime in marketing! You can promote the creation of a gift registry by, for example, giving your customers a few free gift certificates to spend on your store when they reach a certain amount of sales from their gift registry.

Use Gift Certificates to spread the word and acquire new customers
You could encourage your existing customers to buy Gift Certificates for friends and family by giving them a discount code that they can use for their own future purchases when they purchase more than a certain amount in gift certificates. The discount code would be added to the order confirmation e-mail. ProductCart includes advanced support for gift certificates.

Endless possibilities: grow sales leveraging ProductCart and your creativity
We hope that you find some of these marketing ideas useful for your online store! Ultimately, your creativity is the most important ingredient in any successful marketing campaign. On our end, we have designed our shopping carts to give you plenty of tools to put your ideas to work, and will keep adding marketing features to our ecommerce software for the years to come.
Finally, remember that our shopping cart software's support for Google Analytics can help you closely track what happens with most of the marketing campaigns that you create. Create "campaigns" and then add the campaign ID to the links you send (emails) or URL that you print (e.g. postcard). Take advantage of this or other Web statistics services to keep a close eye on what happens on your e-commerce store and fine-tune your offerings "as you go".