New Features in Version 4.7
Easily prepare and upload product "feeds" to the new Google Shopping with ProductCart v4.7
Here is an overview of some of the new features and improvements that we introduced with version 4.7 of our ecommerce software. You can test the latest version of our shopping cart software on this demo store.
Support for Google Shopping
Last year Google switched to a pay-per-click model for their product listings. The bad news is that now you need to pay to list your products on Google shopping (what used to be Google Product Search within Google Base). The good news is that Google now makes money with those listings, so they are more visible and can get you some real traffic.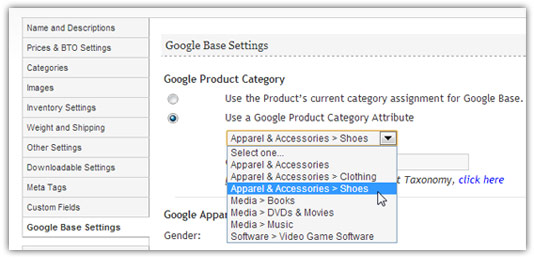 Posting products to Google Shopping on your own is not easy. There are several requirements, and those requirements change depending on the products that you are posting. ProductCart v4.7 includes a new feature that allows you to easily prepare a product "feed" that is compatible with Google Shopping's new requirements, and upload the feed to your Google Merchant account.
For example, you can now specify the correct Google Product Category - which may be different from the name of the category that the product is assigned to in your storefront - and enter other attributes specific to apparel products (Google Shopping is particularly picky when it comes to listing shoes and clothing).
Pinterest integration
You can now turn on the Pinterest "Pin It" button from the Store Settings area of the ProductCart Control Panel. The button is automatically added to category and search result pages, as well as individual product detail pages. Additionally, from the Control Panel, you can specify whether to display the "pin counter".
Updated PayPal Integrations
We've worked with our partners at PayPal to bring you the very latest PayPal payment technology. One of the recent changes is the introduction of "PayPal Payments Advanced", the easy way to create a professional checkout experience that lets buyers pay without leaving your site and PayPal processes credit cards behind the scenes, helping you simplify PCI compliance.
Customers will also be able to pay with BillMeLater (a service owned by PayPal), which basically allows you to offer financing on their purchases, through PayPal.
Here is a screen shot of how things look during checkout: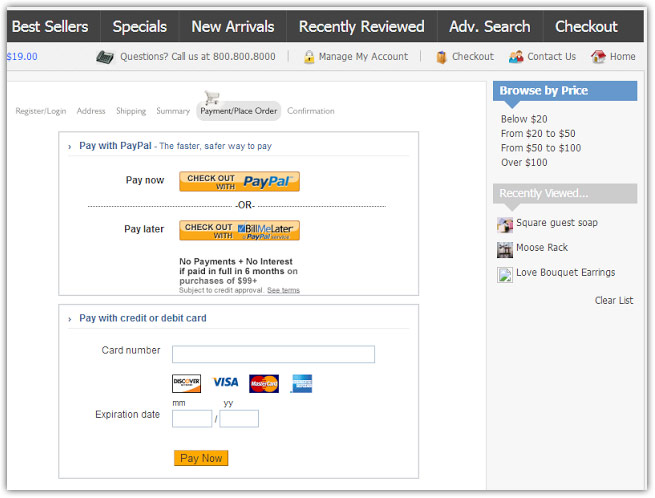 Better Search Results
The meta tag "keywords", which is no longer useful for search engine optimization purposes, needed a new way to be helpful: we found it! The search feature in ProductCart will now check those keywords when querying the product database. This can help you introduce terms that customers may use to look for a product, even if those terms are not in the product name or descriptions (e.g. misspelling, names of competing products, etc.).
The super-robust product import feature in ProductCart allows you to import the Keywords meta tag, so you can easily update the product database that way. Of course, you can also edit products individually.
New gateway added: Transaction Express™ from TransFirst®
We added a new payment gateway: Transaction Express™ from TransFirst®
We also made improvements to other payment gateways. For example, we added AVS code for the VirtualMerchant gateway.
Other new features and improvements
Hundreds of improvements and new features are included in version 4.7. Among them:
Added data entered by customers in the Custom Input Fields for the following data exports: "Export Sale Data", "Export Order Information" and "Export Ordered Products Information".
Added a variable to disallow discount codes when products in shopping cart are 'On Sale'.
Added the ability for the store administrator to add the Gift Certificate recipient information to the order before resending the e-mail to the recipient.
Customers can now add saved products to their shopping cart even if the products are assigned to a hidden category.
Update the drop-shipper interface to display the status of their specific items, not the status of the entire order. So if they shipped their items it will display as shipped, even if there are other items in the order that are not shipped.
Added Order Code to Invoices in both the storefront as well as the control panel.
Expanded the character limitation of the "Terms & Conditions Agreement" from 50 to 255.
When using tax by location and the setting "Display taxes Separately" is set to "yes" taxes were not displayed.
Removed the charts from the main menu due to performance issues. They are now available via the "reports" menu drop-down.
Removed all credit card details from the "Packing Slip"
Fixed the ordering of the Feedback IDs in the Help Desk feature.
USPS "From Zip 4" error displays when generating a label due to an USPS update.
USPS 2013 Name Change: USPS Parcel Post is now Standard Post.
How to obtain ProductCart v4.7
ProductCart - one of the very few PA-DSS compliant shopping carts - is available for sale starting at $695 per storefront. If you are new to ProductCart, see an overview of our shopping carts or view this shopping cart software comparison chart to get an idea of how ProductCart compares to other shopping carts.
To existing users, ProductCart v4.7 is available as a free update to all ProductCart v3.x and v4.x users that subscribe to the ProductCart Technical Support & Updates Plan.
Cart Update Assessment
Are you putting off updating your ProductCart to the latest version because you're worried about customizations and possible conflicts? The ProductCart team can help with a quick and affordable assessment that will identify potential issues before you upgrade.