Additional modules for ProductCart shopping cart software
Add even more features to your
ProductCart-powered store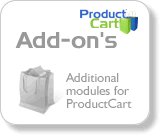 In addition to the hundreds of ecommerce features that ProductCart provides "out of the box", you can extend our shopping cart software by adding any of the following components.
ProductCart Add-ons
Partner Add-ons
ProductCart Add-ons
Here is a list of ProductCart Add-ons that we have developed here at NetSource Commerce. There is also an active community of ProductCart developers that have worked on additional add-ons for our shopping cart software.
True synchronization between your ProductCart-powered ecommerce store and your QuickBooks company file. Automatically map customers and products.

Set the computer that runs QuickBooks to automatically connect to your Web store at fixed intervals (e.g. every 15 minutes) to download new orders, synchronize inventory, map new customers, etc.

Learn more

Internet users are increasingly shopping online using a mobile device. The Mobile Commerce Add-on creates a new storefront on your ProductCart-powered ecommerce Web site, optimized for smart phones. Fast checkout through the new PayPal Mobile Express Checkout.

Learn more

The Apparel Add-On gives ProductCart-powered stores the ability to handle inventory for product variations (e.g. color/size combinations). This is something that is typical of the apparel industry (yep, that's why we called it that way), but it's certainly not just for selling clothes online. On the storefront, customers can view different product images by selecting from a color swatch, and are notified when a specific option is out of stock.

Learn more

You are selling a customizable product: are some of the selections in conflict with each other? Should customers be directed to purchasing a certain product when they select another one? The Conflict Management Add-on for ProductCart Build To Order allows you to apply unlimited rules to the item selections on the product configuration page.

Learn more
Partner Add-ons
There is an active developer community around our shopping cart software, and some of the most experienced Web developers that regularly use our ProductCart have created additional Add-ons to add new features and extend existing ones.