The Future of Custom Ecommerce Is Here
small or large, our flexible ecommerce solutions give you powerful features and possibilities
Combine a shopping cart, a product configurator, and online quoting tools
to sell configurable products and services in real time.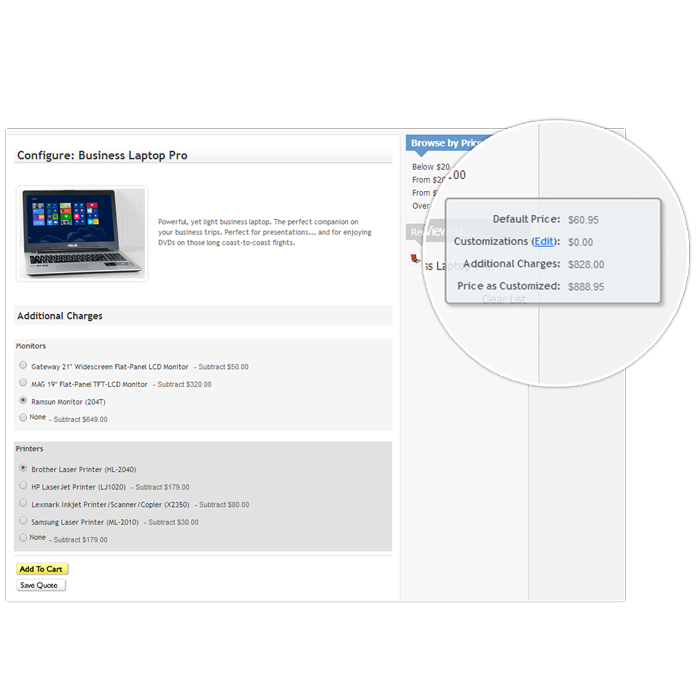 ProductCart Configurator, formerly known as ProductCart Build to Order, combines the functionality of our ProductCart Standard shopping cart software with the unique features of a product configurator and online quoting system, allowing businesses to handle the sale of complex products and services that are configured by the customer during the ordering process.
Real-time price changes, dynamic product preview as you mouse over configuration items, unlimited categories of configurable items, category descriptions, and more.
---
Online Configurator Features
Turn products into unlimited selectable options.

You can assign any number of existing products to a ProductCart Configurator product, organized in meaningful categories (e.g. assign 5 selectable monitors to the "Business Desktop" product, in a "Monitors" category).

Show details on any option.

You can show or not show a link to additional information for any of the assigned SKUs (e.g. More details about the selectable monitors).

Make an option required.

You can easily set which category of selectable options is required, and which is not (e.g. you must select a monitor with your "Business Desktop", but you don't have to select any of the available printers).

Single or multiple selections.

You can allow multiple or single selections within a category (e.g. you can only select one microprocessor for your "Business Desktop", but you can select any of the 5 available keyboards, mice, and other accessories). When multiple selections are allowed, check boxes are used to display the selectable options. When only one selection is allowed, radio buttons or drop down menus are used (see below).

Associate a quantity field with any selectable item.

When setting up a configurable product or service, you can now show/hide a quantity input field for any of the options assigned to the product. This is a huge improvement to the product configurator. For example, when ordering a custom gift basket, customers will be able to select how many units they need for any of the products that they are adding to the gift basket, as long as you are allowing them to select more than one unit. Therefore, on the same product or service configuration page, you can have a combination of items that can be added to the configuration in more than one unit (i.e. the quantity field is shown), and items that can only be selected, but for which a quantity cannot be specified (i.e. they can only add one unit to the configuration - the quantity field is hidden).

Drop-downs or radio buttons.

Show selectable options using drop down menus or radio buttons. This and many other interface settings can be applied to the product configurator using ProductCart's intuitive Control Panel (see demo).

Quantity discounts on selectable options.

Depending on the number of units of the configurable product that the customer is purchasing, and/or on the number of units of a specific item added to the configuration, the price of that item can change dynamically based on quantity discount tiers set for it. This powerful feature has a wide range of applications. For example, the unit price of the option "4-Color Printing" may change as the customer decides to purchase 2,000 instead of 500 custom business cards. Change the quantity and everything is recalculated on the fly, without refreshing the configuration page.

Default options.

Set a default option, which affects the base price for the configurable product, or not. By not setting any default options, you can have users configure a product "from scratch".

Show category-specific instructions on the configurator pages.

Configuring a custom product or service can be somewhat intimidating to a new visitor to your store. Now you can better guide your customers by showing comments or instructions above each category of selectable options. Especially on complex product configuration pages, this feature will make the ordering process much easier for the customer.

Quantity-independent additional charges.

Continuing on the "business cards" example, an order for 500 business cards could be charged the same $150 setup fee that is charged on an order for 10,000 business cards. Similarly, having a Jazz Band at a wedding reception would cost $1,500 regardless of the number of guests. The price of the "dinner" portion of the wedding reception, however, does change based on the number of invited guests. ProductCart Build To Order now allows you to separate items that affect the product or service configuration regardless of the quantity ordered. You can associate N additional charges with the configurable product or service and organize them in meaningful categories. In the storefront, these charges are shown to customers on a page separate from the product or service configuration page. Continuing on the "wedding reception" example, the shopping cart will now allow customers to first configure their dinner (appetizers, first courses, soups & salads, beverages, etc.), where the total price is a function of the selected items and the number of guests, then add other items whose price is not affected by the number of guests (e.g. photographer, dj, flower arrangements, etc.).

Advanced inventory.

You can track inventory on everything the customer selects on the configuration page. Since each selection is a part number in your store catalog, and not simply a "product option", when an order is placed stock levels are updated for each of the selected items. Of course, if inventory does not need to be tracked, the system can accommodate that scenario too.

Flexible pricing.

Set different option prices for retail and wholesale customers. Set different prices when the SKU is purchased as a stand-alone product (e.g. the same computer monitor may cost $100 when selected as part of the "Business Desktop", but $150 if purchased separately on the store). You can decide which SKUs are also available as stand alone products and which are not.