NetSource Commerce Payment Gateway
The All-in-One Payment Gateway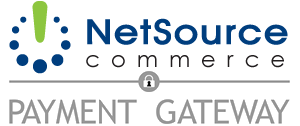 Already a user? Log in securely:
All in one
We've been developing ecommerce software for a decade. We know exactly what merchants need when it comes to payment processing
Meet the NetSource Commerce Gateway: everything you need in one payment gateway solution, fully integrated with our ecommerce solutions.
Everything you expect...
Tightly integrated with our ecommerce software, the NetSource Commerce Gateway has everything you expect in a payment gateway... plus things you weren't expecting!
address & card security code verification
virtual terminal (take orders from any computer with Internet access)
retail swipe (utilize a card reader that "swipes" transactions directly into the virtual terminal)
batch upload (quickly process thousands of transactions and automatically generate detailed reports)
... and much more
Three Step Redirect
An innovative, patent pending system where sensitive credit card information is transmitted directly to the payment gateway through an end-to-end Secure Sockets Layer (SSL) connection, bypassing the merchant's server and application. Since it takes merchants outside the scope of handling sensitive payment information, it minimizes their PCI compliance requirements.
Level 1 PCI Certified Credit Card Storage Vault
Allows merchants to process repeat transactions against securely stored credit card accounts. Used by ProductCart v4.5 and above to allow customers to save their credit cards for future purchases (when that feature is enabled).
Mobile Payments
Mobile payment processing software for iPhone, iPad, & iPod Touch, with the ability to also swipe credit cards to obtain retail card-present rates (requires an encrypted card reader: MagTek iDynamo). Additional fees apply (see below).
Integration with ProductCart
New features are being added to the latest version of our shopping cart software that take advantage of the NetSource Commerce Payment Gateway:
Reduced PCI compliance requirements when using Three Step Redirect: your online store is no longer considered a "payment application"
Tokenization of payment information: ProductCart never saves the credit card details
Allow customers to save credit cards for future purchases, leveraging the secure, PCI-compliant credit card vault
Process refunds directly from the Control Panel
Supported Payment Processors
CardWorks
Elavon
EPX
First Data Merchant Services - Nashville
First Data Merchant Services - Omaha
Global Payments - East
Global Payments - Canada
Interlink
MeS Trident
Paymentech - Salem
Paymentech - Tampa
TSYS/Vital
Fees
Transparent and inexpensive.
NO Setup Fees
$25/month, which includes a PCI-compliant credit card vault at no extra charge
$0.12 per transaction
Adding/removing records to/from the credit card vault: $0.10 per add/edit/remove
Keeping credit card records in the credit card vault: FREE
Optional services
Advanced anti-fraud tools $20/month + $0.15/transaction
CertifyPCI: PCI Compliance Self-Assessment Wizard + vulnerability scanning service for just $249/year
Mobile payments: $15/month + encrypted card reader (if needed - MagTek iDynamo)
Electronic Checks: $49 setup fee, $20/month, plus $0.50 per transaction
Sign up today!